Maratek

FLW-II

is a true industrial parts washer with built-in solvent recyclers.

Independent of the type of solvent you use, the FLW-II will provide professional parts cleaning capabilities with the advantage of continuously working with pure clean solvent.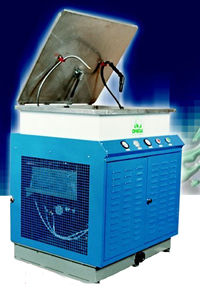 Operators can clean parts with clean solvent all the time, since as soon as solvent becomes dirty, the operator can send the dirty solvent to be distilled and bring up clean fresh solvent for cleaning purposes from a base holding tank filled with clean solvent. The dirty solvent that was sent to the still is purified of oils and greases, and directed to the clean solvent holding tank
Why use a Maratek FLW-II?
The FLW-II system is built to industrial specifications and can be used for a variety of different solvents.

It is approved for use with SCAQMD Non-Voc solvents but can be used with the solvent of your choice.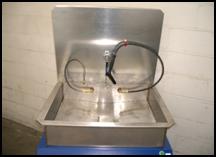 The system is PLC controlled for simple operation and has a true stainless steel sink.

The FLW-II will enable you to:
Available options:

FLW-II models are tailored to meet your requirements to allow for easy integration into your production process.

Options include FLW-II Satellite units that can be configured to work with a central solvent recycling unit.

Contact us to discuss your specific needs or for more details and equipment specifications.