Maratek and Ligar Unveil Innovative Mipillate Extraction Equipment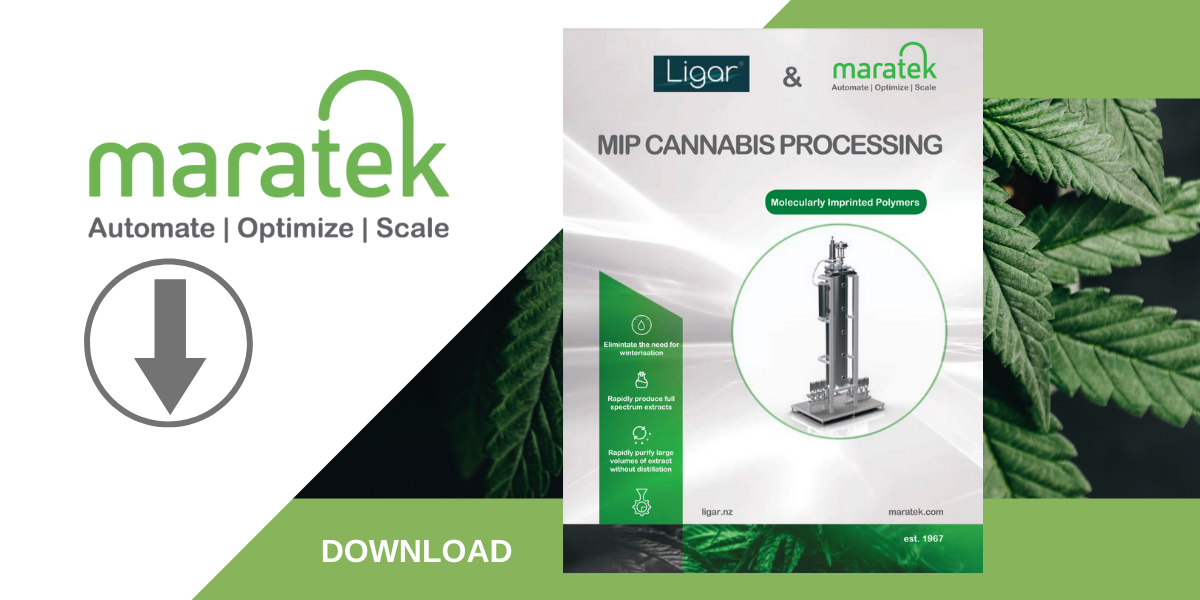 Ligar and Maratek: how two global leading industry experts came together to create high-performance MipillateTM equipment.
The cannabis industry has been revolutionizing itself at breakneck speeds over the course of the last decade. Legalization across the United States and Canada is driving this innovation and creating companies born out of new technologies to automate and improve the process of cannabis extraction. MIP technology is used to target and recover high value molecules and remove contaminants.
It can be used to capture cannabinoids from crude extracts while letting the fats, waxes, lipids and contaminants pass through. This reduces or completely eliminates the need to winterize and creates a natural full spectrum concentrate without distillation - Mipillate is the evolution of distillation.
While we can say that the cannabis industry is constantly changing, Maratek brings a history of solvent extraction to the developing space.
Starting in the solvent waste industry in 1965, Maratek has evolved through printing and silver extraction to now taking the cannabis world by storm. Maratek's strengths lie in ethanol extraction processes, while looking to limit solvent waste and increase efficiency. With a focus on engineering and innovation, Maratek is always looking for ways to partner with forward thinkers, like Ligar, to push the boundaries of what is available.
Who is Ligar?
Ligar is a New Zealand-based company which began life as a project at the Waikato Institute of Technology (Wintec) led by Dr Miruna Petcu. The team saw the opportunity to use MIP technology in the field of filtration and extraction, an area which presented a wide-open commercial space.
MIPs have traditionally only been used on a very small scale in laboratories and companies have struggled to scale up the promising technology to an efficient production level, but Ligar's team developed methods to manufacture them consistently at large scale, along with user-friendly MIP systems.
Ligar's first commercial project utilizes MIP technology to extract wildfire smoke taint from wine. The increasing number and severity of wildfires have increased Ligar's activities in smoke taint removal from wine, along with other forms of wine improvement processes.
The boom in cannabis production led to Ligar's involvement in the cannabis industry. MIPs present an opportunity to replace winterization and distillation systems with innovative, easy to use purification systems, providing a cheaper and more streamlined purification process, with the potential to be able to process very large volumes, while saving time and money.
The Ligar and Maratek partnership launches a new and innovative manufacturing process onto the market! MipillateTM extracts are being described as "the evolution of distillate". While the term does not just apply to cannabis, the cannabis application will be first to market.
Together, we aim to establish MipillateTM as a distinct and unique product!
What are MIPs?
Molecularly imprinted polymers, or MIPs for short, are "smart" materials in bead form that help to extract desirable or unwanted molecules from fluids. The MIP beads "trap" these molecules and filter them out. These "smart" beads then get flushed out and reused.
This process is significantly more space, cost, and labour efficient than traditional winterization and distillation systems and results in the same removal of fats, waxes, and lipids. The absence of heat in the process preserves cannabinoid acids and terpenes in the extract and the beads leave behind much of the pesticide and heavy metal contaminants - whereas distillation amplifies these issues.
MIPs technology is an interesting concept for its diversity of uses and the scaling opportunities it presents – processing larger volumes involves building bigger columns but with the lack of cooling, heating or high pressure, this is straightforward.
There are growing opportunities in the processing of other bio actives, fermentation-based biotechnology and flavour modification. This includes the development of biorefineries around the world, where plant biomass is being broken down, not just for the high value bio actives, but also for the energy, fiber, proteins, carbohydrates, etc.
Why do we need MIPs?
Cannabis extraction is a costly and labour-intensive method that involves expensive older equipment and inputs to produce a small amount of crude oil.
The scale at which biomass can be grown is greatly decreased due to the production bottlenecks caused by slow equipment and a multitude of steps.
In the production of large volumes, winterization can become a very expensive and time-consuming part of the process.
With full spectrum products, very cold ethanol is used which comes at a high energy and storage cost.
In most efficient distillation processes with high purity, there is a need to decarboxylate, but customers increasingly want the acid forms and terpenes included in the product naturally.
Distillation equipment used today requires systems running at high pressures and temperatures and this is a health and safety hazard for which the directors of the company are liable.
Pesticides and heavy metals are problematic, particularly with cannabis grown outdoors and solutions for extraction are few and far between.


What are Maratek and Ligar looking to solve together?
Ligar and Maratek will be able to provide the ability to process large volumes of extract easily and cost-effectively, removing complex and expensive steps in the manufacturing process and producing a higher quality product.
The MIP system removes the need for winterization, decarboxylation, and distillation, assuming that a full cannabinoid spectrum product is desired.
Ligar's focus is on the development and manufacture of MIPs and the design of MIP systems. These work alongside other technologies to complete the processing and extraction of crude oil and cannabinoids.
This is where Maratek comes in. Maratek designs and manufactures ethanol recovery systems, solvent recovery systems and winterization systems, and supports, as a distributor, many other steps along the cannabis processing pipeline. Ligar's unique technology pairs perfectly with Maratek's goal to provide a more complete system for automation, optimization, and scaling opportunities. Maratek is innovative and has successfully introduced new technologies to the market, as well as applying existing technologies in new markets.
Aside from the complementary technologies, Maratek and Ligar are both companies looking to innovate and provide new methods of processing that make the lives of cannabis oil manufacturers easier, safer and more profitable.
Maratek is looking forward to complementing Ligar's innovative technology and help to complete the most efficient and optimized production system for our customers. Working with MIPs offers an opportunity to leave behind the outdated and expensive winterization and distillation systems and put science to work, extracting with ease! MIPs is a technology we are very excited about and can't wait to see its applications not only in the cannabis sector but with all bio actives around the world!
Not only do our technologies merge perfectly together, but so do our people! Maratek is Canadian owned and Ligar is owned in New Zealand, making our cultures the perfect mix of hardworking, dedicated and friendly people who want to build high-quality systems that help our clients achieve their goals.
Interested in learning more about the partnership between Maratek and Ligar, and more about the MipillateTM technology? Contact the Maratek team today and download the brochure.