What are the Benefits of Turnkey Engineering Solutions in Cannabis Extraction?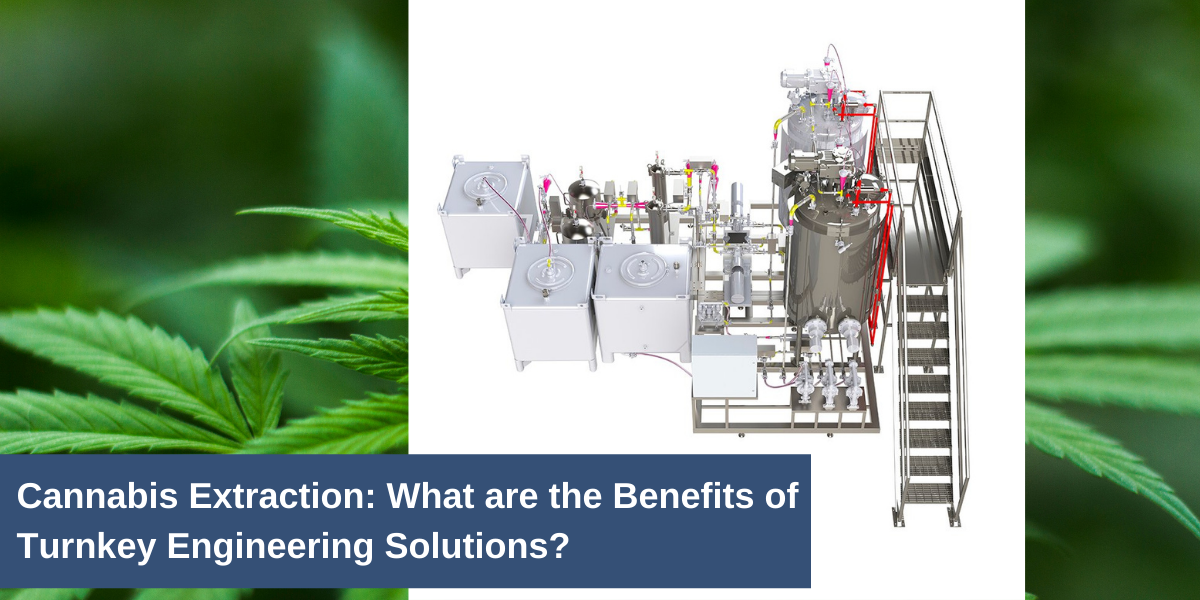 Using new engineering solutions is a crucial component of improving your organization's cannabis oil extraction processes, particularly if you are in the process of scaling your cannabis and hemp extraction projects up from lab to industrial.
The key to overcoming any challenges that come with this step is automation. Your business should be using an engineering solution that automates every step in your cannabis oil extraction process, such as cryogenic ethanol extraction, winterization, solvent recovery, decarboxylation and distillation.
To ensure your facility is able to automate its processes, achieve a high-quality product, save money and boost profits, it's important that you look for a turnkey engineering solution that addresses your specific needs and challenges.
What is a turnkey cannabis oil extraction facility?
In general, the term turnkey refers to something that is ready for immediate use. It is a product that is supplied, installed or purchased in a condition that is ready for immediate use, occupation or operation. The term is commonly used in the industrial and manufacturing industries.
When it comes to cannabis extraction equipment, a turnkey cannabis oil extraction facility is an engineering solution that is supplied to a customer fully-assembled and ready to operate.
Turnkey engineering equipment is hugely important for companies undergoing cannabis and hemp extraction as the solution is specifically engineered and designed to meet their extraction requirements - meaning once it arrives, they can start achieving their goals instantly.
How does turnkey engineering apply to cannabis extraction?
Cannabis extractions is a growing industry that requires automated machinery when producing high volumes of product. The challenge is, all companies in this space have completely different requirements and objectives.
That's why they need to use turnkey solutions that are fully assembled by one seller. Turnkey solutions can be engineered for a company's specific cannabis extraction needs, allowing the automation of the entire process from the infeed cryogenic ethanol extractor, solvent recovery, filtration, decarboxylation and post-processing to the final desired full-spectrum cannabis oil - whether that be an isolate or distillate.
Through the automation of your cannabis extraction processes with a closed loop turnkey system, your business will be able to access benefits such as reduced labour cost and less operators, all while producing high throughput.
What are the benefits of turnkey projects?
The benefits that an all-in-one turnkey solution will bring to your cannabis and hemp extraction processes can be huge for your business. These benefits include:
Completely scalable design and access to equipment that can be customized to suit your organization's specific requirements.
Turnkey projects save your business time and money in the long run.
Seamless support since you will only ever have to contact one seller if you are experiencing an issue.
Consistent high quality through each piece of equipment and each process, as long as you work with an experienced and trusted partner.
And much more!
How can Maratek help?
Maratek has more than 50 years of experience in the engineering of recycling and recovery equipment. We have brought that basy knowledge to the cannabis and hemp extraction industry, where we design and manufacture fully-automated, GMP compliant turnkey extraction facilities.
Our Turnkey Cannabis Oil Extraction Facilities are specifically designed for companies looking to meet growing demand and produce high-quality CBD and other cannabis oils. Through the use of our closed loop turnkey solutions, your business can completely automate your entire cannabis extraction process in one easy-to-use and cost-effective solution.
Want to learn more about Maratek's world-class turnkey engineering solutions for the cannabis extraction industry? Contact us today. Our team of highly-skilled and experienced experts would love to answer any questions that you may have.