How Bubble Hash Can Enhance the Cannabis Experience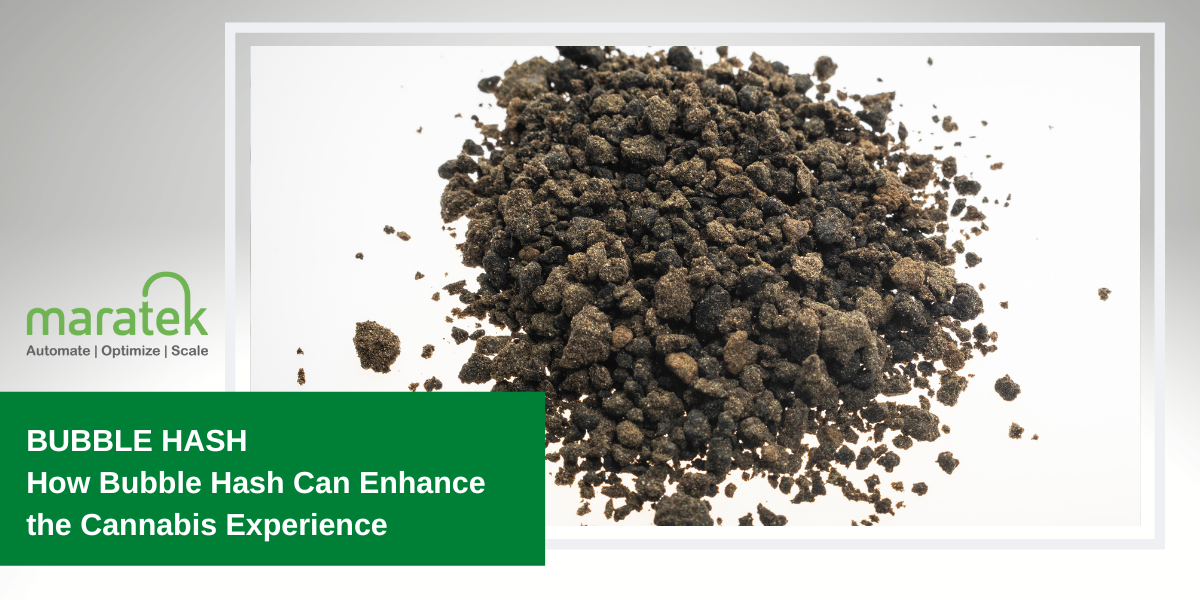 Modern-day technology continues to improve the standard of different forms of cannabis extraction. Bubble hash is a form of cannabis extraction that shares the qualities of other popular forms of cannabis, such as hashish and kief.
It comes in somewhat of a crumby form, and can vary between looking more paste-like or more powder-like.
The form of cannabis extract also varies in colour, with each different shade representing different amounts of potency. Colours can vary from red, blonde, or even black, and typically the lighter the colour of the hash itself represents the higher quality of hash consumers will be using.
Bubble Hash is composed of various trichomes from the cannabis plant, which contain very high levels of THC.
Along with that, they also include other cannabinoids and terpenes, which enhance the potency and typically range from between 30-60% THC. As a result of these features, bubble hash tends to be considered a favourite amongst different types of cannabis extract for consumers.
One of the biggest reasons as to why that may be comes from a result of not needing to rely on solvents or gases to enhance the quality of the product. When cannabis extraction is performed to produce bubble hash, one of the more frequently used methods is through ice baths for flash freezing it.
After this step, it is then agitated to separate the trichomes from the plant itself. When looking to consume bubble hash, users can choose to typically sprinkle it into the joint or bowl and enjoy extra potency when they consume it. An alternative to these methods would include dab rigs, and hash pipes for stopping hash getting through air holes.
Types, and impact, of bubble hash
Since bubble hash has been able to be extracted, it has remained one of the purest forms of cannabis extraction amongst all over forms commonly seen. Although it has always been used, it has just recently begun to gain popularity as a solventless concentrate extracted via ice water.
Albeit bubble hash is not the strongest concentrate, it is packed with a variety of different terpenes that contribute to potency of the cannabis.
There are various qualities of bubble hash that are available to consumers. One of them would be trim processed bubble hash, which is typically the lowest quality of that type of cannabis extract. It tends to be dark in colour and rare to find, while also taking a longer duration of time to burn than other forms of extract. Another would be bud processed, which is more likely to produce high end materials for cannabis users.
Due to the lack of solvent present in the extraction process, the bubble hash provides users with a feeling leaving them more euphoric than normal strains tend to do. Not only that, but users also find that they have no hangover effect from the bubble hash as well. One of the reasons as to why that is comes from how it mainly consists of THC, and is solventless.
Bubble hash can be used to enhance the cannabis experience for a lot of users, and it is mainly responsible because of how the process of this type of cannabis extraction is conducted.
Are you interested in learning more?
Bubble hash provides users with a unique experience they may not typically find through other forms of cannabis extraction, and this can be credited to how exactly bubble hash is processed. Normally being solvent-free, this provides users with an elevated experience that allows for more enjoyment of consumption when compared to different types of solvent-based extractions for cannabis.
Based upon its traditional heritage, bubble hash shares qualities similar to other popular forms of a cannabis extract, and although it ranks lower than usual for strength in concentrate, it ranks incredibly high in terpenes. Different forms of bubble hash provide users with different experiences but ultimately provide a positive one. It can be easily applied to different forms of consuming cannabis as well.
To learn more about bubble hash, get in touch with the Maratek team today.