The Top 5 Biggest Stories in the Cannabis Industry in 2021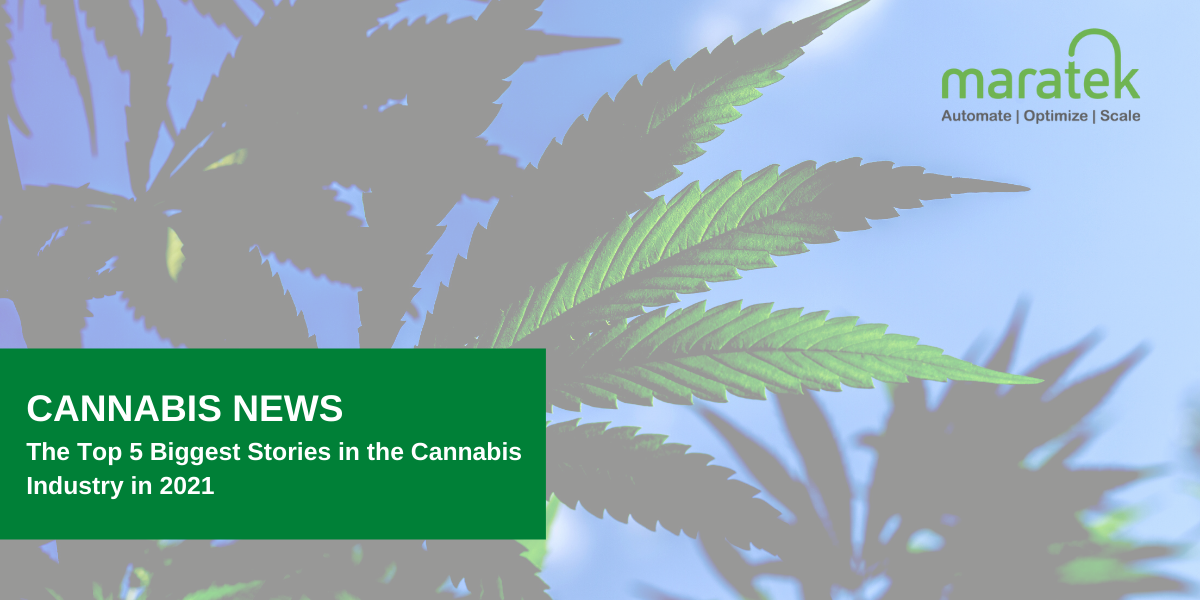 The year 2021 had a lot of big and impactful moments that have had a serious cause and effect on the cannabis industry for 2022. A plethora of law changes and other significant events have led to the production of cannabis increasing, and allowing for more people to get their hands on well-made manufactured cannabis and hemp products.
Whether it be through repetitive battles in court, or impressive sales results providing further implications on the future of the industry, this past year has contributed a lot to the betterment of the cannabis industry for 2022.
With that in mind, in this blog, Maratek takes a quick look at the five biggest stories in the cannabis industry in 2021, and what they might mean as we move through this year.
#1 - Discussions over medical marijuana use are going well in Mississippi
In recent news, a final meeting between Senator Kevin Blackwell - the architect for the medical marijuana bill - and Governor Reeves occurred in Mississippi in which Senator Blackwell brought hemp to the governor's office to put into perspective the actual size of the marijuana. The reason is that in 2020, the bill for medical marijuana was approved, but in the following year, it was overturned.
For this year, it seems as though the legislature has made it an early priority to configure what the next step is regarding this bill. Senator Blackwell mentioned how he felt the meeting went well, and that he hoped the additional safeguards from the state would ensure the current limits on marijuana supply would be sufficient.
Approving a bill such as this would be huge for the state of Mississippi, as more people would be capable of having access to medical marijuana, which has been shown to improve the lives of countless clients who have used it. Various forms such as cannabis and hemp all contribute to enhancing the potency of these strains of marijuana, and the inclusion of an increase to a sufficient amount for medical marijuana would allow for more manufacturing companies to improve as well, ultimately increasing jobs and work for production.
#2 - Georgia passed a medical marijuana bill
Last year, legislators in Georgia passed a bill that would allow up to thirty medical marijuana oil dispensaries to open in the state. Up to six companies would be registered to produce cannabis oil with a THC cap of 5%.
After the announcement of the new bill, roughly 15,000 had registered for medical marijuana patents within Georgia. Given the demand for work within the cannabis industry, the government of Georgia can see a substantial increase with jobs in demand, along with additional tax revenue from the production and sales of cannabis. Looking at how many people had applied for a role to open a dispensary, it is evident that the cannabis industry is one that will inevitably expand considering its potential to not only help the economy, but the lives of civilians as well.
#3 - Ohio continues to build momentum
This past year, medical marijuana was very popular amongst voters, and in 2022 the state of Ohio is looking towards building upon its momentum. The Ohio Board of Pharmacy has announced that they would allow 73 new dispensaries to be built within the state, nearly doubling the current amount they had prior to this announcement.
As the future of medical marijuana opens up in the state, countless applications have been submitted for approval with regard to dispensaries. Not only that, but Ohio is also looking towards incorporating recreational marijuana use. Ideally, people 21 and over would be able to own a limited amount of plants that they could grow.
Given the sudden uprise in business within the cannabis industry in the state of Ohio, Maratek's Fractional Distillation Columns can assist in tackling projects that new businesses may face. The uniquely designed fractional distillation units for automated fractional distillation can help create a more efficient and cost-effective production process by reducing both solvent and operation costs.
#4 - Arkansas medical cannabis sales pass $500 million
Since the first dispensary on Arkansas opened in May 2019, the state's 37 operating medical cannabis dispensaries has now passed $500 million in medical cannabis sales. This is a big milestone of the growing market for the state. In the year 2021, Arkansas dispensaries sold more than 40,000 pounds of cannabis, and over 79,000 residents have active patient cards.
#5 - Malta becomes the first country in Europe to approve legalization
At the end of last year, Malta made big news by becoming the first country in Europe to approve the legalization of using marijuana for recreational use for adults. On top of this, bills have been taken into effect to soften penalties and other punishments for crimes related to marijuana.
Other countries within Europe are also beginning to follow suit. Portugal and the Czech Republic have also begun adopting these practices. The impact of this decision is huge, as already evident through the enforcement of new policies from other European nations. This can open up a lot of new opportunities for not only businesses within the countries of the continent, but also for the people as well.
Now in Europe, people will see an increasing number of individuals looking to get access to the benefits of marijuana. Whether it be for medical use, or recreational purposes, the cannabis industry in Europe can only continue to expand, and once the governments of each country see the potential of the industry itself, it would be safe to assume that they would want to further its expansion.
Whether it be through legal progression, sales improvement, or something in between, the expansion of the cannabis industry continues to gain momentum and positively impact the lives of countless members of society.
Major events such as Malta becoming the first country in Europe deciding to approve legalization is monumental given the precedent it will set for the future with other countries looking to take advantage of the expansion of various types and forms of cannabis. This is especially true given how effective medical marijuana is specifically, as Georgia and Ohio saw progress with getting the state to approve of additional dispensaries being added to their respective states.
Interested in learning more about cannabis and hemp production? Get in touch with Maratek today. We're a leader in the development of cannabis oil extraction equipment.