Hazardous Liquid Waste & Chemical Waste Management Services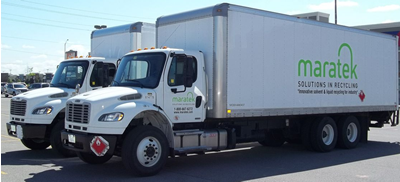 Maratek offers full liquid chemical waste disposal and recycling services to all generators of liquid hazardous waste; including printers, manufacturers and photolabs located throughout Southern Ontario.
For 40 years, Maratek has operated an innovative hazardous liquid waste treatment, liquid solvent recycling and disposal facility in Bolton, Ontario.
The site is licensed by the Ontario Ministry of the Environment and conforms to the stringent standards necessary to operate a hazardous liquid waste recycling and disposal site.
Our skilled personnel are trained to handle and pick up hazardous liquid wastes. We take liquid chemical waste recycling and disposal very seriously and we manage our clients with the utmost care.
We are focused on all generators of hazardous waste and solvent waste in Ontario and Quebec (printing and all manufacturing sectors) and strive to deliver top service for your waste management and recycling needs.
Maratek Environmental is licensed by the Ontario Government to manage the pick up and disposal of many types of hazardous waste solvents , chemicals and industrial liquids.
Maratek Environmental Hazardous Waste and Chemical Waste Programs
Maratek ensures that your waste solution balances your objectives, operational demands and budget, while eliminating your environmental burden and ultimately protecting your company's value.
Our certified waste support teams will create a custom waste service program for you, to remove your waste materials at your convenience, while ensuring you are compliant with local and provincial regulations.
With Maratek you get the following:
Customized pick-up schedules
Access to your account history, current information and paperwork
Treatment of your hazardous waste
Pre-handling and transportation inspection
Printed manifests and labels
Compliance support services
All-inclusive pricing