Printing Industry Solvent Recycling Equipment: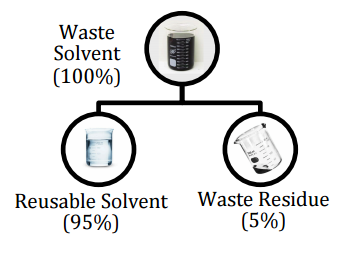 The Maratek Solvent Saver Printing (SSP) equipment uses a multi-stage vacuum solvent distillation process that separates solvent into its components at lower-than-boiling point temperatures.
Any waste solvent waste residues are self contained within the unit. Distilled water can usually be sent down the drain, and the reclaimed solvent is ready to go back on the press - and it's as good as new.
The Maratek SSP unit is an off-press automated solvent recycling machine that, once installed, needs very little attention.
Switching out drums and using our touch-sensitive control screen is virtually all the labor that is required. It has a small footprint and because it operates at low temperatures, its explosion-proof design is safe for installation in the pressroom.