What is MET Lab certification and why does it matter for your Solvent Recycling Equipment?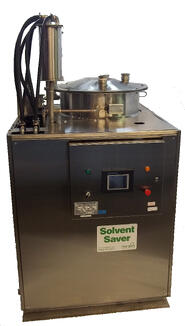 Our award-winning equipment is used by thousands of
companies world-wide
due to its unique and customizable features. We
continuously strive to provide clients with the most efficient, safe, and high quality recycling equipment possible. We take this endeavour very seriously, and hope this reflects in our products and service to date. Part of this effort has included becoming MET Lab certified.
What is MET Lab certification?
Met Laboratories are a world class independent testing & certification body for electrical safety standards. They are responsible for certifying thousands of products for standards equivalent to UL, CSA and more.
Being Met Lab Certified means that our products have met the requirements of applicable standards, as well as the continued compliance to these standards by periodic follow-up inspections.
Our Solvent Recycling equipment are UL2208 and NFPA496 certified. So they meet all standards to be located and operated in Hazardous and Non-hazardous locations.
UL2208 - This standard ensures that all Solvent Distillation Units are certified for use with flammable and non-flammable solvents in industrial & labratory applications. All our equipment is UL2208 Class 1 Div 1 Group D explosion proof which is required for all flammable solvents. If you are considering a solvent recycling system, be sure to get all documents from the supplier stating this certification or your workplace could fail safety inspections and the equipment could be shut down. In Canada and USA European standards are not eligible for use, beware of foreign companies claims that their equipment is able to be used. When in doubt, always ask for proof of certifications.
NFPA496 - This standard ensures that electrical equipment enclosures will not ignite or combust when in a flammable atmosphere. This allows operation in various workplaces, despite where it may be located.

You can always rely on Maratek to provide the safest and best quality solvent recycling systems. We hope that this certification shows our continued dedication to this effort. Our solvent recycling equipment will help you cut costs by up to 80% by re-using your solvents. We provide rental programs with no upfront costs or contracts, so you can start saving money right away.

You'll be in good hands at Maratek - As market leaders in solvent recycling for the last 20 years, we take pride in providing our customers throughout North America with reliable, innovative, and cost saving recycling solutions.

Contact us today and we'll call you back to establish a safe, reliable, and environmentally friendly solution for solvent recovery and solvent recycling.