How to Choose the Right Solvent Recycling Equipment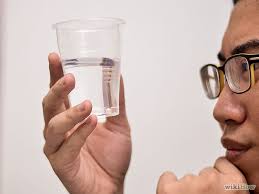 Solvent recycling equipment will help you stay competitive by keeping solvent waste costs low while supporting you company's environmentally friendly initiatives.

But how do you know what equipment is right for your needs?
There are many factors that come into play when choosing solvent recycling equipment. Everything from the type and quantity of solvent to be treated, to the type of waste residue preferred and level of automation can affect the type of unit you select.

Consider these questions to help identify the best option for your recycling needs:
How much solvent will be recycled per week?
The first step in choosing solvent recycling equipment is determined how much solvent you plan to recycle per week.
If you recycle under 275 gallons per week or 5 drums, you can choose smaller Solvent Saver Batch (SSB) models that are simple to use. If you're above those quantities, a larger more automated system like the Solvent Save Continuous (SSC) line will be more efficient for your needs.

What's the difference between batch and continuous models?


Simply put, batch models recover solvents cycle by cycle, unlike the continuous model which fills and empties at the push of a button. Batch models only work during loading and unloading periods where the user holds a button or manually fills the distillation vessel and returns after 8 hours to collect the drum filled with recovered solvent. To operate the continuous model, users start by tapping the button with a PLC tablet to begin the auto-fill process. The machine then fills itself and begins the recycling process, followed by self-cleaning.
Do you need automation?
"Autofill" is a standard inclusion in the SSC line of equipment, but can also be added to SSB. It allows for continuous and automatic recycling, and is controlled by high level switches and fill sequence timers that are embedded in our Maratek software. The only automatic feature that can be added to a SSB model is autofill, unlike SSC that can include features such as auto sludge discharge, remote Ethernet capabilities, volume sensors and a high viscosity scraper shutdown feature.
Are your boiling points high?
If your chemical mixture's boiling points are high, you will want to consider a vacuum in your recycling unit. Vacuums will enable you to separate and recover chemicals that boil at high temperatures, because it forces them to separate at lower-than-boiling temperatures.
What else should you consider?
If your waste mixture includes Nitrocellulose, a compound that may release large amounts of heat, is flammable and can become unstable at high temperatures where it releases toxic fumes, you must look at models that are Nitrocellulose safe (marked (N) on Maratek equipment. This optional add-on includes features such as autocool, a vacuum, a steel conical wall and a scraper.
Here's an overview between Maratek's SSB and SSC models: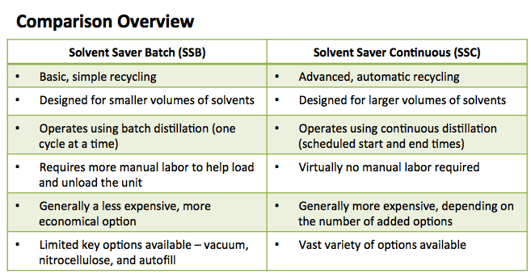 Still not sure what equipment is best for you? View our "Guide to Selecting Solvent Recycling Equipment" or contact us for a free liquid waste stream laboratory test.
Maratek - We're Specialists in Recycling and Disposing of Liquid Waste
If you believe your waste stream is out of the ordinary, there is no need to worry. Maratek Environmental provides laboratory testing to determine the best solution for handling your waste stream.
Recycling solutions may provide you with re-usable liquids saving your business substantially on materials used in your processes.
If recycling is not an option we have the experience and equipment to safely handle all kinds of industrial and manufacturing liquid waste streams.
Contact us today and we'll be pleased to call you back and help you towards establishing a safe, reliable, and environmentally friendly solution for your liquid waste streams.