Custom Solvent Recycling Equipment At Maratek Environmental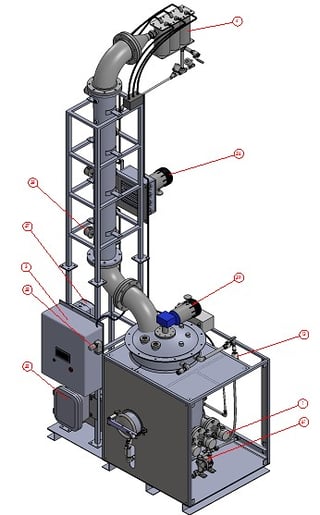 Did you know that Maratek Environmental Inc. does Chemical Simulation, Design, Fabrication, Manufacturing, Testing and set-up with our in-house team of engineers?
Our manufacturing process starts with our chemical simulation team, who uses client information such as type of solvent and desired purities and yields, and then uses calculations and aid simulations to determine the best possible application type for them. We are able to see all the ways that different concentrations, equipment sizes and processes will give our clients the required final product.
Our design engineers take the information from our chemical simulation team and conceptualize working equipment models within Solidworks and other design software to ensure the equipment design will function as required. We then transform our finalized model design into fabrication drawings for the manufacturing department.
In our manufacturing area, our manufacturing team uses the fabrication drawings for all parts of the solvent system assembly including electrical components. We make sure that the product is working as designed by putting the system through our rigorous final testing and quality control standards.
Next, we ship the recycling equipment to our clients, often providing a start-up team to give our clients the smoothest integration into their current operations to avoid any down time. We can provide all types of training and support to make sure the startup process is seamless with day-to-day operations of the company.
Our equipment is also available with remote ethernet PLC control so our service department can remotely monitor and service equipment to make sure it is running smoothly and efficiently.
Using an in-house team for all steps of the manufacturing process ensures that our clients never have to worry about outsourced assembly from inexperienced or untested subcontractors. The benefit is a controlled schedule for delivery and a higher quality at a lower cost. These steps allow us to create the award-winning equipment which our clients worldwide have come to rely on to help them save money and stay competitive.
Get a Free Quote For Our Solvent Recycling Equipment:

Maratek - We're Specialists in Recycling and Disposing of Liquid Waste
If you believe your waste stream is out of the ordinary, there is no need to worry. Maratek Environmental provides laboratory testing to determine the best solution for handling your waste stream.
Recycling solutions may provide you with re-usable liquids saving your business substantially on materials used in your processes.
If recycling is not an option we have the experience and equipment to safely handle all kinds of industrial and manufacturing liquid waste streams.
Contact us today and we'll be pleased to call you back and help you towards establishing a safe, reliable, and environmentally friendly solution for your liquid waste streams.