Selecting the right solvent recycling equipment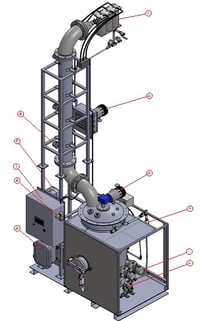 Choosing the right solvent recycling equipment for your specific purposes and requirements is important. There are several factors to consider including the frequency, composition, and total amount that you wish to recycle. We've outlined several questions to ask when choosing the right equipment for you.
How much solvent are you planning to recycle per week?
Companies that recycle under 275 gallons, or 5 barrels, per week will usually choose the simpler, more compact, solvent saver batch ( SSB) models. If you are recycling more than 275 gallons per week, you may want to consider the larger and more automated Solvent saver continuous ( SSC) line. The SSB models operate using waste bags, which is convenient with small amounts but becomes less efficient with larger volumes of waste.
What is the difference between continuous recycling and batch recycling?
Batch recycling recovers solvents cycle by cycle, requiring work only during loading and unloading periods. The user will hold a button or manually fill the distillation vessel and then return approximately eight hours later to collect the drum filled with recovered solvent. At this point, the user may tilt the machine to remove the waste bag and then repeat the process for the next cycle.
Continuous recycling operates differently, as the user simply taps a button on their remote PLC tablet to begin the autofill pumping process. The machine will then fill itself and sense when to stop pumping new solvent into the distillation vessel. The recycling will begin and the unit will self-clean to remove any waste that begins to build up. Simultaneously the unit will refill the distillation vessel to maintain a constant volume. The system can therefore be run continuously for as long as desired, and can be controlled and monitored remotely.
Do you need more automation?
If you need automation and remote control in your process, you will want to consider the SSC line of equipment. Autofill comes standard in the SSC line but is also available as an option for the SSB line. The autofill feature allows for completely automatic and continuous recycling. An additional pump is installed to transfer the waste solvent into the unit's distillation vessel. This automatic pumping process allows for the solvent to be pumped in, distilled, and finally removed from the unit.
Switches and timers embedded in the Maratek software control the process, and ensure the unit is continuously feeding new waste solvent to replace the recycled solvent. The SSC line has a variety of other automation options to further enhance the system including auto sludge discharge, remote ethernet capabilities, volume sensors, and the high viscosity scraper shutdown feature. The only automatic feature available for the SSB line is autofill, so depending on how automated you would like the process, you may want to evaluate the options available for each line.
Other Considerations
There are other things to consider, such as whether or not your solvent contains nitrocellulose. Nitrocellulose is a chemical compound with the potential to create an exothermic reaction leading to the release of large amounts of heat and even toxic fumes such as carbon monoxide. Knowing this, Maratek has engineered a Nitrocellulose safe option, available for all models. This option includes features such as auto cool, a scraper, a steep conical wall, a vacuum, and advanced temperature controls. We recommend adding this option ( N) to your unit if your solvent waste contains this chemical.
Boiling points of the chemicals in your solvent should also be considered. If your solvent has a high boiling point, adding a vacuum to your unit would be necessary to separate and recover chemicals at lower-than-boiling point temperatures.
If you want to know more about the different options for SSB and SSC models and naming standards, you can download the white paper, A Guide To Selecting Solvent recycling Equipment.
Maratek - We're Specialists in Recycling and Disposing of Liquid Waste
If you believe your waste stream is out of the ordinary, there is no need to worry. Maratek Environmental provides laboratory testing to determine the best solution for handling your waste stream.
Recycling solutions may provide you with re-usable liquids saving your business substantially on materials used in your processes.
If recycling is not an option we have the experience and equipment to safely handle all kinds of industrial and manufacturing liquid waste streams.
Contact us today
and we'll be pleased to call you back and help you towards establishing a safe, reliable, and environmentally friendly solution for your liquid waste streams.