Turn-key Solvent Recycling Plants From Maratek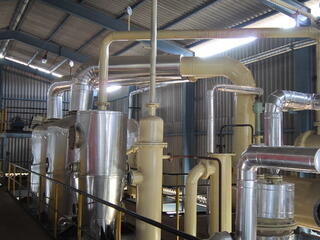 We have many clients who often ask us solvent recycling related questions in their emerging market. As more and more countries push priorities into 'green' initiatives and the environment, often businesses are in the dark about what they can do to ensure they are abiding by laws and regulations.
We are a provider of complete standalone turn-key recycling plants which are often able to provide their entire country with the ability to recycle or recover waste solvents. We include everything from product research and development (to make sure our systems will follow all local standards and types of waste), to manufacturing of the system which is done in-house by our team of experienced engineers. We also provide high-level consulting to consistently make sure our plants are operating as they should, and that we are addressing any issues you may have. We don't just sell you the system and walk away like other companies, we partner with you to ensure the best results possible.
We have previously setup these solutions to companies in Israel, Russia, and South Africa, as well as provided resources in Brazil, India, and China. Our most popular sector we work with overseas is the printing industry, as companies want to save costs in these competitive industries while obeying new legislation.
"The most popular overseas industry sector we`re working with is solvent waste from the print industry," says Colin Darcel, President, Maratek Environmental Inc. "As new government regulations and environmental standards come into effect in the emerging economies, we're getting a lot of calls from recycling companies who wish to add solvent recycling solutions to their services offering. We will help them set up a new solvent recycling plant from scratch, provide them with the equipment and all the senior engineering consulting assistance they need. And most importantly, we will help them to be successful."
We also specialize working with industries such as:
If you don't require a full standalone plant system, we can also manufacturer off the shelf and custom solvent recycling equipment, able to handle batches from 8 gallons each, to continuous cycles of up to 50 gallons/hour. We also have a rental program for our equipment, which has no contract and requires no money upfront, so you can start saving money immediately.
Maratek - We're Specialists in Recycling and Disposing of Liquid Waste
If you believe your waste stream is out of the ordinary, there is no need to worry. Maratek Environmental provides laboratory testing to determine the best solution for handling your waste stream.
Recycling solutions may provide you with re-usable liquids saving your business substantially on materials used in your processes.
If recycling is not an option we have the experience and equipment to safely handle all kinds of industrial and manufacturing liquid waste streams.
Contact us today and we'll be pleased to call you back and help you towards establishing a safe, reliable, and environmentally friendly solution for your liquid waste streams.