Benefits of Recycling Industrial Paint Wastewater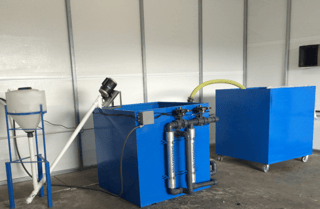 One of the largest up-and-coming waste streams we have been seeing more of lately is Latex base wastewater. As more companies are turning to latex based paints within the paints & coatings industry, we have been working with many companies to turn this wastewater into a finished product which is often able to be disposed of within the municipal system.
The largest producers of latex based wastewater is the paint & coatings industry where the rinse water is used to clean equipment such as brushes and spray-guns. Where latex based paints are becoming a more widely used paint type, companies are left not knowing how to deal with the wastewater vs. the old oil or solvent based types they previously worked with.
We help companies in the paint & coatings industry reduce their costs in 2 ways, we reduce the fees associated with disposing of hazardous wastewater as well as making the water re-usable over and over again, reducing water costs.
We specialize in 2 different types of wastewater equipment, a membrane and a flocculation based waste water system. Each system has it's benefits:
Membrane: Membranes of various sizes can be used to filter out all contaminants from water. Our Aquamizer equipment can filter large flow rates of water based waste streams. The process is automated for operator simplicity with regular membrane cleaning and automatic regulation throughout the system. Each system can be custom designed based on your specific waste stream and volumes.
Flocculation: Flocculation is a chemical process which binds to the contaminant (in this case latex) in the water to remove them. The contaminant is then filtered from the water and removed, leaving a water which is able to be re-used. The flocculation based system is widely used in the paint & coatings industry and can be designed based on your specific waste stream and volumes.
If you have a liquid waste and want to save money and reduce your costs, we provide you with a free lab analysis of your waste stream to provide you with a breakdown of possible recovery options.
Maratek Environmental has been designing, testing and manufacturing custom & off-the-shelf solvent, chemical and waste water recycling equipment for over 40 years. We offer unparalleled service every step of the process, to provide you with an accurate ROI of savings of your recovery method. Because we do not outsource any process, you can be sure that no unfamiliar subcontractors are involved.
We also provide a rental program with no up front costs or fixed contracts. We guarantee it will save you money from the day you receive it.
You'll be in good hands at Maratek - As market leaders in waste recycling for the last 20 years, we take pride in providing our customers throughout North America with reliable, innovative, and cost saving recycling solutions. Contact us today and we'll help you to establish a safe, reliable, and environmentally friendly solution for solvent or wastewater recovery and recycling.