Solvent Waste Recycling In-House - How To Get Started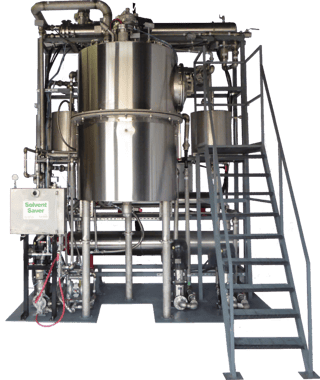 If you're in an industry which produces waste, you likely already have an understanding of your options when it comes to disposing of that waste. If you're like most companies, you store the waste product (taking up valuable space) until you have enough of it to call in a company to pick-up the waste and dispose of it. In certain situations, these disposal companies then go on to recycle your waste and can either sell it back to you or to other companies. They literally make money from your waste which you paid them to pick up. There is obviously a more efficient and cost effective way to deal with your solvent, water, oil or other hazardous liquid wastes. But where do you get started?
Step 1)
Isolate the quantity of waste you produce and use - Solvent recycling equipment comes in many sizes, in both off-the-shelf models or built-to-order. Knowing how much waste you create is an important first step, as this will be a key indicator in recovery rates. I.e. if you produce 10 gallons of waste a day you could go with a Batch (run as required) machine which you can wait until you have the correct amount of waste to use, whereas if you produce a large amount of waste, a fully automated or continuous recycling unit would be ideal as you would require the recycled product to re-use as soon as possible.
Step 2)
Get a laboratory analysis of your waste stream - Getting a lab test of your waste stream allows the manufacturer of the equipment to know your exact requirements of purity for finished products. In certain cases, using methods like fractional distillation, many different waste types can be recycled in a single machine. Which saves you time, staffing costs and allows you to buy less new product. A lab test (Which Maratek is happy to provide for free, with no obligation) will help you narrow down certain features in the equipment.
Step 3)
Features which are required - Once you know the quantity and have your waste stream analysis, you can narrow down certain features which you require. Some of these will save time, some will improve efficiency and power usage. Features such as:
Oil Cooling - Reducing time required to cool
Allen Bradley PLC - To integrate into current network
Internal Scraper - Maximizing heat transfer
Fractionation - For ultra-high purity of multiple solvents
Automated Filling - For less labor requirements
Safety - Ensures all equipment is compatible in workplaces
Separation - To separate water from solvents
While there are many more features than this, these are the majority of features we see clients looking for. While many of Maratek's equipment lines include these features, we also build-to-order equipment as well to precise requirements.
Step 4)
Get a free quote - Getting a free no obligation quote is a great way to see what the cost and ROI on equipment will be. For example, most Maratek equipment will pay for itself in as little as 16 months, but we also provide equipment rental and leasing programs, which provide you with the full benefit of recycling immediately (we guarantee you will save money) without having to sign any contracts or pay any initial fees.
With most recycling/recovery equipment, you pay for what you get. While it's easy to get equipment cheap from foreign markets, going with certified, award-winning manufacturers who take care of the entire process of sales, design, fabrication and support in-house ensure that you will be taken care of from first contact and for many years.
Maratek is the:
Safest - Class 1 Div 1 Group D Explosion Proof
Strongest – Easy to Maintain High Quality 304 Stainless Steel Construction
Smartest – Highly Automated with TouchScreen PLC and Remote Access It is
Simplest to Operate Requiring Very Little Intervention
Includes Lifetime free remote Service and Support
You'll be in good hands at Maratek - As market leaders in waste recycling for the last 20 years, we take pride in providing our customers throughout North America with reliable, innovative, and cost saving recycling solutions. Contact us today and we'll help you to establish a safe, reliable, and environmentally friendly solution for solvent or wastewater recovery and recycling.