How Outsourced Solvent Waste Recycling can Save Your Business Money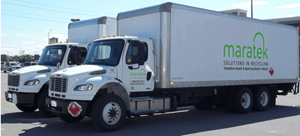 Does your business create waste solvents that are adding money to your bottom line? Did you know that recycling your solvents could reduce your solvent purchases by as much as 95%, as well as dramatically reduce the hazardous waste you keep on site?
Purchasing or renting solvent recovery equipment can be a costly investment for smaller business or those that don't produce an excess of solvent, but outsourcing your solvent recycling to a specialized firm can provide immediate savings for your business.
What is solvent recycling?
An outsourced recycling and recovery program should be designed to help your business accomplish two major goals - reduce liquid waste disposal expenses, and recycle your liquid solvent waste such as solvent waste, alcohol waste, blanket wash and liquid cleaning solvents.
If you decide to implement a solvent recycling and recovery program, not only will it provide your company with positive environmental benefits and the ability to call yourself a "green" company, but you will also realize significant economic benefits too.
Solvent recycling and recovery services use the latest recycling equipment innovations to produce recycled products to the highest solvent specifications. This allows companies to use solvents again at a fraction of the price of regular chemical solvents.
Look no further than Maratek
Through our recycling and recovery program called MaraSolve, Maratek Environmental will pick up your waste solvents and bring it to our liquid recycling facility in Bolton, Ontario.
Your solvent is then tested, segregated from other companys solvents and run as a batch through our solvent distillation technology. The resulting recycled product will be of virgin quality and will be available to you for purchase at a rate lower than your current liquid virgin solvent purchase price, saving you money.
There are four main steps to Maratek's recycling and recovery program:
Waste solvent is picked up and taken to the licensed Maratek recycling facility.
Blanket wash is used on the press, generating waste blanket wash for disposal.
Maratek recycles the waste blanket wash using our Solvent Saver technology.
Recycled MaraSolve Solvent is delivered for reuse.
With the price of solvent continuing to rise, the MaraSolve program allows you to eliminate costly increases by purchasing your own recycled solvent back. Waste disposal and solvent purchase expenses will be reduced from what you are currently paying.
Our solvent recovery and recycling programs run across Ontario and the eastern parts of Quebec.
What do our customers say?
Here at Maratek, we have been working with fantastic clients across North America for many years and we love feedback. We love to hear from them about how our recycling services such as MaraSolve have helped them.
Here are just a couple of testimonials that we have received:
"MaraSolve is helping JF Moore to dramatically reduce it's new solvent purchases, and the concept of purchasing back our own recycled waste solvent fits our corporate environmental objectives." Frank Pantaleo, JF Moore Lithographers, VP Operations
"Maratek's recycled blanket wash has helped Quebecor to stabilize and improve solvent costs without jeopardizing quality." Dennis Wilkins, Quebecor World, National Purchasing Manager
Want to learn how you can save money with an outsourced solvent recycling program and become more environmentally-friendly at the same time? Contact us today and learn more about our free recycled solvent trail offer