Cleaning Systems: Models Combo 3-II and Combo 6-II Models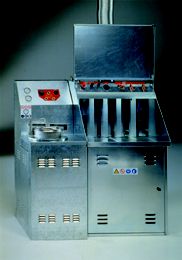 Consisting of two components, the Maratek COMBO-II units provide the benefit of recycling your solvent waste stream in an integrated tool, spray gun and parts washer.
The COMBO-II combines an automatic paint gun washing station – model
GW-173 – with a solvent recycling unit – SSB

These combinations will create a COMBO 3-II or a COMBO 6-II.
Available Options
COMBO-II models are tailored to meet your requirements and integrate seamlesslyinto your production process. Contact us to discuss your specific needs or to obtain more details on equipment specifications.