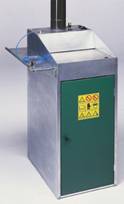 The GW-173 paint gun/combo washing station is ideal for automatically cleaning all types of spray guns, tools or small parts.

Its main feature is an automatic washing chamber which performs a thorough cleaning of all types of spray guns or other solvent tools.

Other features include the integration of an exhaust duct system to capture fugitive solvent emissions, a spray gun testing port, as well as taps for light manual cleaning and access to clean solvent.
The GW-173 model is simple to operate, simple to install (with no electrical connections and only a compressed air source) and will save you precious hours of routine maintenance chores.
Why use a GW-173?