Maratek Environmental is now offering business opportunities to other companies around the world. If you are interested in establishing a solvent recycling plant to service local businesses who want to recycle their solvent products, please contact us as we'd like to discuss the business opportunity for a partnership.
Following the corporate acquisition of Omega Recycling Solutions Inc. in 2011, Maratek Environmental Inc. has significantly expanded it's overseas sales, by creating a new business unit focused on establishing business partnerships, with recycling companies around the world who want to create a stand-alone solvent recycling plant.
Maratek has considerable experience handling, recycling and recovering all kinds of industrial solvents from the printing, automotive, furniture, woodworking and aerospace industries, at its Bolton, Ontario plant.
Maratek is a top solvent recycling equipment manufacturer, and a leader in custom-designed R&D solvent recycling equipment projects since 1980, with deep solvent industry experience. Now Maratek is able to share this experience with other markets around the world, particularly with rapidly growing recycling businesses in emerging economies.
Maratek has been able to sell complete turn-key solvent recovery plant solutions to companies in Tel Aviv, Israel; in Moscow, Russia; and Johannesburg in South Africa, with several other projects in the pipeline in Brazil, India and China.
Maratek offers a complete turnkey solution for emerging markets, that involves everything from new product research and development (if required to fit local standards and custom types of solvent waste), the manufacturing of industrial solvent recycling equipment, and providing high-level consulting expertise by leveraging the company's expert engineering knowledge and senior staff.
To stay competitive, businesses around the world have got to keep their manufacturing costs low. But to keep regulators happy and customers and investors interested in a clean well managed business, you've got to demonstrate "green" and environmentally friendly initiatives.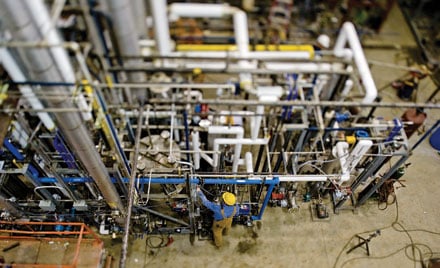 Maratek can help by providing the broadest range of solvent recycling equipment and solutions on the market, with solvent recycling equipment addressing the specific issues of the particular industry sector, such as print and ink solvent recycling, furniture, aerospace and automotive industry solvent recovery, and even oil recovery and industrial process water purification systems.
Maratek is particularly well known for its highly-engineered, quality products, and they are well positioned in the global market with thousands of solvent recycling units operating throughout the world.
The company has acquired a wealth of technical experience that has made it a world leader in designing and manufacturing equipment for reducing, recycling and reusing industries' liquid waste streams, especially solvents.
The actual solvent that is reclaimed from Maratek equipment is indistinguishable from the virgin solvent product. Maratek's best selling equipment is the Maratek Solvent Saver, with award-winning, proven technology, that will reduce the amount of printer blanket wash or industrial cleaning solvents you purchase and the amount of waste you produce. This leads to substantial cost savings that can increase your bottom line and reduced VOC generator and emission status.