The STOR system will reduce purchases of new solvent by 70%, reduce disposal of waste solvent by 90%, and eliminate the need for an outside laundry service.

The STOR system was developed to recover solvent trapped in cleaning rags from processes such as cleaning printing presses.
Waste solvent is purified and returned to production with the added benefit of cleaning the soiled rags.
Installation of

STOR

eliminates laundering of dirty solvent rags while also recycling the used solvent from those rags. STOR processes:
reduce the cost of replacement solvent through recycling

reduce liquid waste

eliminate transport of hazardous waste

eliminate solvent discharge concerns during laundering


Why use a Maratek STOR ?
Eliminate :

Hauling of hazardous towels
Hauling of hazardous solvents for disposal
Drum storage in your plant
Toxic vapour emissions

Reduce :

Your solvent purchase by 85%
Your solvent disposal by 90%
Your liability
Your operating costs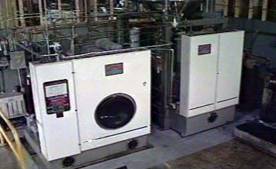 Is it worth it ?
The STOR system is economically viable, with an extremely quick payback. For any industry using solvents for cleaning purposes and goes through 10,000, or more, rags per week, click here for a complete payback analysis.

Available options:
Each STOR system is designed specifically to tailor the needs each application, so integration and performance are guaranteed.