Solvent Saver Batch (SSB) Helps City in BC become Greener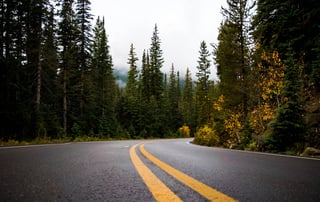 The City of Burnaby has a designated road painting department that helps mark and line the pavement to guide traffic. Lane and center lining is carried out using a specially equipped truck.
Road marking paint is sprayed onto the surface of the road by means of pressurized air guns, followed by a coating of glass beads, which make the lines reflective.
These air guns must be washed with "gun wash" solvent after use, creating a waste mixture.
This mixture is separated and reused using Maratek's solvent recycling equipment instead of being shipped off as waste. This is both an economic and environmentally friendly solution for the City of Burnaby.
Company Name: City of Burnaby

Industry Type: Road Painting Department

Location: Burnaby, British Columbia

Recycled Chemicals: Toluene

Solvent Recovered: approximately 80%

Unit Installed: SSB 8 Solvent Saver
"Maratek's unit has worked really well. We have been using it to recycle toluene from road paints, but most surprising of all – we can't believe how quiet it is."
Mike Demeda, Road Painting Dept. City of Burnaby
The City of Burnaby uses Maratek's solvent recycling units to recover toluene from road paints. They have recycled over 200 gallons in the past, and continue to save money by re-using their toluene instead of buying new drums, which cost approximately $600 for only 55 gallons.
The SSB 8 solvent saver successfully recycles 80% of the waste solvent into useable solvents, saving an average of $480 per drum, in addition to the $100 per drum they would have spent to ship the waste solvent to be recycled in remote facilities.
You'll be in good hands at Maratek - As market leaders in waste recycling for the last 20 years, we take pride in providing our customers throughout North America with reliable, innovative, and cost saving recycling solutions. Contact us today and we'll help you to establish a safe, reliable, and environmentally friendly solution for solvent or wastewater recovery and recycling.