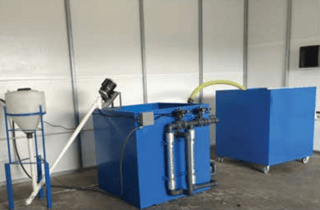 If you generate contaminated watewater, grey water, rinsewater or mop water in your production facility then Maratek's watewater purification systems can help you recycle wastewater streams for re-use or disposal, lowering your costs, saving your money and reducing your liability.
The Aquamizer F is a flocculation based water treatment machine using a chemical process to bind contaminants together to be filtered out. Many wastewater stream types can use a flocculation based treatment.
Maratek has worked with many companies who generate wastewater conatminated with oils, solvents, lube-oils, grease, inks, coolants, glycols etc. where jurisdictions prohibit the discharging of wastewater to the sewer.
We provide free quotes and lab tests of your wastewater stream to provide you with the best solution possible. We also have rental programs on all our equipment which allow you to start saving money immediately with no fixed costs or contract required.