What Solvent Wastes Can Be Recycled & Reused?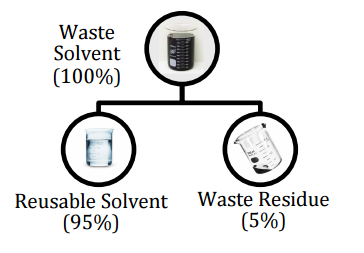 In today's competitive marketplace, many industries are taking as many steps as possible to remain competitive. In the face of growing regulations, this means businesses have to look at removing any additional operating costs. When we talk with companies, most of them are shocked just how simple, efficient, affordable and quick it is to set-up a solvent recycling system in-house. The ROI on Maratek equipment can be as little as 12 months
So just what solvents can be recycled? Maratek works with companies in all industries so we are able to work with ALL solvent types. For simple solvent waste streams, we have off-the-shelf equipment which is the fastest to implement, but for more complicated waste streams we provide a build-to-order service, which is optimized to your exact solvent waste, which also have the ability to recycle complex solvent solutions into their isolated solvents for reuse.
Some solvent wastes which we have worked with before with other clients either as individual waste products, or as combinations of others are:
Mineral Spirits
Thinners & Lacquers
Kerosene
White Spirits
Naphtha
Varsol
Glycol
Hexane
Heptane
Xylene
Acetone
MEK (Methyl Ethyl Ketone)
Ethyl Acetate
Butyl Acetate
Butyl
Methyl
Isopropyl
N-Propyl Bromide
N-Methyl-2-pyrrolidone
Methylene Chloride
Perchloroethylene
Trichloroethylene
1,1,1 Trichloroethane
1,1,2 Trichlorotrifluoroethane
If you have a solvent waste stream, no matter how simple or complex, Maratek has the expertise to have you recycle your waste for reuse. Saving you and your company money and time by cutting costs and freeing up staff. Maratek Environmental is a world leader in solvent recycling and solvent recovery equipment manufacturing. Our award-winning equipment is used by thousands of companies world-wide due to its unique and customizable features.
We are able to provide our customers with many options to saving money immediately with no upfront costs. With programs such as rental plans, with no contracts, quarterly billing and guaranteed savings of at least 50% of your waste costs. We also have a rent-to-own program, which offers the same benefits, but 10% of each payment goes towards owning the equipment.
We provide a free analysis of waste streams to give you an idea of recovery rates and equipment available, as well as a no-obligation quote from our team. Contact us today to see how much money you can save.
You'll be in good hands at Maratek - As market leaders in waste recycling for the last 20 years, we take pride in providing our customers throughout North America with reliable, innovative, and cost saving recycling solutions. Contact us today and we'll help you to establish a safe, reliable, and environmentally friendly solution for solvent or wastewater recovery and recycling.