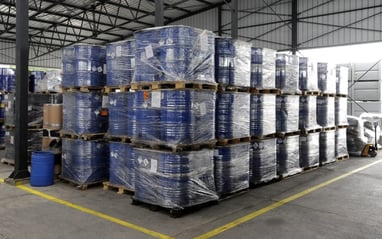 One of the most frequent questions we get when talking with manufacturers is "What does it cost to recycle my solvents?" When they tell us a bit more about their waste stream, quantity of waste, current disposal methods and type of solvents. We normally end up telling them that there is NO "cost" to getting solvent recycling equipment and they will in fact save or gain money. Here are a few reasons how you save money:
Disposal Costs
Disposal costs of solvents are one of the largest costs we see from manufacturers. With typical waste disposal companies, they will pick up you waste from drums (which you will pay for) then normally dispose of it (which you also pay for) but in certain cases, the disposer will take the waste, recycle it themselves and re-sell it to other manufacturers, which makes them even more money. By disposing of your waste, you are literally giving away money more often than not.
Purchasing of new solvents
Once waste solvents are disposed of, it leaves you needing more, so you have to normally purchase a brand new solvent directly from the supplier. These are extremely expensive and the price always seems to increase year over year.
Maratek offers a program called MaraSolve, where we pick up your waste, recycle it in our industrial scale processor, and sell it back to you for a fraction of the price of a new solvent. For companies which don't have the space or quantity necessary to have an in-house solution
Complicated Waste Streams & Solutions
When dealing with more complicated waste streams, where combinations of water, solvents and other chemicals are used, manufacturers often think they are stuck with the only option being disposed of their waste. This is no longer the case at all, with Maratek's equipment, we are often able to recover each individual chemical. With each type of waste being able to completely be re-used as a virgin solvent or in the case of water waste, able to be recycled into the municipal sewage system.
No Upfront Costs of Equipment
We are able to provide our customers with many options to saving money immediately with no upfront costs. With programs such as rental plans, with no contracts, quarterly billing and guaranteed savings of at least 50% of your waste costs. We also have a rent-to-own program, which offers the same benefits, but 10% of each payment goes towards owning the equipment.
Leasing is also available, which also has the same guarantees of savings as rentals but is more accommodating to a fixed amount of time. Outright purchase is also available.
All these types of ownership include our support services and our user-friendly, well built, touchscreen controlled options which require little to no maintenance.
Our award-winning solvent and wastewater recycling equipment gives our clients the ability to be more competitive in ever tightening sectors, while also fulfilling all governmental environmental regulations. Our equipment is able to work with any type of waste, with both off-the-shelf or built-to-order systems available to guarantee you the best results possible.
We provide a free analysis of waste streams to give you an idea of recovery rates and equipment available, as well as a no-obligation quote from our team. Contact us today to see how much money you can save.
You'll be in good hands at Maratek - As market leaders in waste recycling for the last 20 years, we take pride in providing our customers throughout North America with reliable, innovative, and cost saving recycling solutions. Contact us today and we'll help you to establish a safe, reliable, and environmentally friendly solution for solvent or wastewater recovery and recycling.