Solvent Recovery Site Prepared for 'Largest Treatment Project in the World'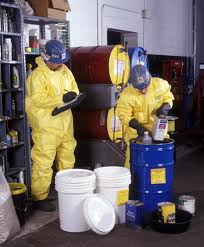 This is a very large and ambitious project and one that Maratek Environmental would like to have been involved with.
I found this interesting article at the Website - http://southington.patch.com and thought my Maratek blog readers might be interested to find out more about how a large scale operation like this works.
The U.S. Environmental Protection Agency and Connecticut DEEP officials will hold an open house this weekend at the entrance to the site as they prepare to remove an anticipated 1 million pounds of solvent from soil and groundwater on the two acre site.
After years of planning, the Environmental Protection Agency and Connecticut Department of Energy and Environmental Protection will finally move forward with remediation of the Solvent Recovery site – a project they said this week will be the largest project of it's kind to date in the world.
The two agencies, working alongside a group of potentially responsible parties, will host an open house on the matter on Saturday from 10 a.m. to 3 p.m. outside the site of the former Solvent Recovery Solutions of New England site at 90 Lazy Lane.

"A very significant phase of the remediation is under construction right now, and will become operational later this year. This phase of the work is called 'in-situ thermal remediation,' which is expected to remove approximately 1,000,0000 pounds of solvent from the soil under 2 acres of the site," the DEEP said in a press release.

"This will be the largest treatment project of its' sort to date in the world.
This process will use electrical heaters bring about 50,000 cubic yards of soil at the site to the boiling point, evaporate the solvents, then capture them with a vacuum system and thermally oxidize them prior to release to the atmosphere."

Calls seeking further comment were not immediately returned Thursday.

The program will give residents a chance to learn more about the extent of solvents in groundwater, preventing further migration of contaminated groundwater by pumping and treating the water using UV/oxidation, and monitoring on-going bio-remediation of solvents in groundwater by naturally occurring bacteria.

The site has been abandoned since the 1970s after considerable contamination forced the company to leave the location due to contamination.
In 1983, the federal government won a lawsuit claiming the property.
If you're interested in establishing a solvent recycling plant to service local businesses who want to recycle their solvent products, such as printers, please contact us as we'd like to discuss the business opportunity for a partnership.
Maratek corporate offices are located in Bolton, Ontario; about 15 minutes north of Toronto. Contact Us at :
Maratek Environmental Inc.
60 Healey Road
Unit 8-10
Bolton, ON
L7E 5A5
Phone: 905.857.2738
Fax: 905.857.2764
Toll Free: 1.800.667.6272