Maratek Environmental took The Solvent Saver on the road during September and displayed the award winning technology to the Printing Industry at Print 13 & CPP Expo in Chicago, September 8-10th.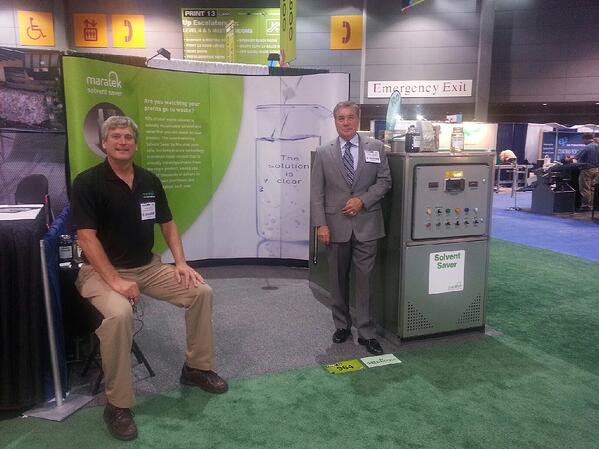 Print 13 is recognized as the most expansive exhibition in the Americas of digital, offset, flexo and hybrid printing technologies for - commercial, transactional, package printing, publishing, photo imaging and marketing industries. This years event was themed "Innovate, Integrate, Communicate."
Maratek's Solvent Saver, with award-winning, proven technology, will reduce the amount of blanket wash or cleaning solvents you purchase and the amount of waste you produce.
The benefits? Substantial cost savings that can increase your bottom line and reduced VOC generator and emission status. The Solvent Saver is the cornerstone for any environmentally responsible printing or industrial manufacturers facility. This does not go unnoticed in the community and is especially appreciated by customers.
Reduce waste disposal expenses
Reduce blanket wash and solvent purchases
Lower generator status
For a typical printer, one drum of virgin blanket wash used on the press results in about two drums of waste that can cost in excess of $300 to dispose of. By recycling that used blanket wash, you capture nearly all of the solvent to reuse with less than $20 of waste to ship. This results in a 95% reduction of hauling and disposal costs with a lot less new blanket wash to purchase! Based upon our experience with over 250 installed Solvent Saver Systems, the equipment typically pays for itself in less than 18 months!
With the Solvent Saver one drum of blanket wash can be run through the press over ten times before you have a single drum of waste to ship!
The Solvent Saver uses a multi-stage vacuum distillation process that separates blanket wash into its components at lower than normal evaporation temperatures. Any waste residues are self-contained within the unit, distilled water can be sent down the drain and the reclaimed solvent is ready to go back onto press with the addition of a recharge agent. The Solvent Saver is an off-press automated technology that needs very little attention. Switching out drums and using our touch-sensitive control screen is virtually all the labor required. It has a small footprint, requiring little expensive manufacturing space. The Solvent Saver operates at low temperatures, making it safe for installation in the pressroom in almost every instance.
Thank you to everyone who visited us at Print 13 & CPP Expo! If you were unable to attend and would like more information about The Solvent Saver or other solvent recycling equipment and services please contact us at 1.800.667.6272 or visit our website for brochures, case studies and more..