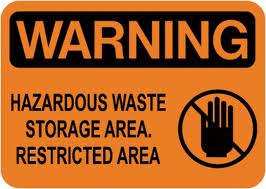 We're often asked what type of Hazardous waste materials do we handle and pick up from our Toronto Area and Ontario clients?
Even though we have Ontario Ministry of the Environment issued certificates of approval to transport, handle, receive and process various types of hazardous waste we still need to be clear about what hazardous waste we can pick up in waste disposal drums.
Learn more by viewing our list of hazardous waste materials we can pick-up across Ontario.
So what is hazardous waste?
Let's start with a definition - "Hazardous waste is waste that poses substantial, or potential threats to public health or the environment."
Hazardous waste and hazardous recyclable materials typically exhibit hazardous characteristics that are known, or tested to exhibit one or more of the following four hazardous traits:
ignitability (i.e., flammable)
reactivity
corrosivity
toxicity
Listed hazardous wastes are materials specifically listed by regulatory authorities as a hazardous waste which are from non-specific sources, specific sources, or discarded chemical products.
In Canada, these characteristics are defined by taking into account the hazard criteria established under the Transportation of Dangerous Goods Act and Transportation of Dangerous Goods Regulations, as well as specifically listed wastes and materials in the schedules of the Export and Import of Hazardous Waste and Hazardous Recyclable Material Regulations (EIHWHRMR).
Hazardous wastes and hazardous recyclable materials can be in different forms such as solid, liquid, gas, sludge or paste.
They can come from a myriad of sources such as residues from industrial operations, manufacturing processing plants and hospitals, or they can be obsolete materials such as waste lubricants and pesticides.
More information about the generic types of potentially hazardous wastes and activities that may generate them is available in Environment Canada (EC)'s Guide to Classification.
Due to the dangerous properties of these materials and the fact that they may pose a risk to human health or the environment in certain conditions, special recycling and disposal operations must be undertaken at authorized facilities to ensure their environmentally sound waste management and continued protection of human health. That's what we do at Maratek.
Maratek Environmental Inc. has proudly served industrial manufacturers who produce hazardous chemical waste and solvent waste such as printing, photofinishing, silver and paint related manufacturers for over 40 years.
Maratek corporate offices are located in Bolton, Ontario; about 15 minutes north of Toronto.
Maratek Environmental Inc.
60 Healey Road
Unit 8-10
Bolton, ON
L7E 5A5
Phone: 905.857.2738
Fax: 905.857.2764
Toll Free: 1.800.667.6272
www.maratek.com