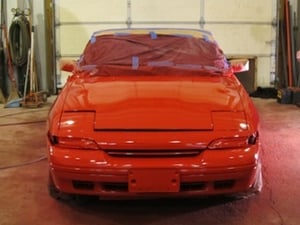 Automotive finishing shops are often stuck with solvents and residual paints around their shop, but owners can save a significant amount of money by recycling these products on site.
On-site recycling could reduce an automotive finishing company's solvent purchases by as much as 95 per cent, as well as dramatically reducing hazardous waste levels in the shop. According to the Department of Toxic Substances Control, automotive finishing shops in California reduced their solvent purchases by as much as 80 per cent by recycling on site.
Used solvent and paint waste is often the largest waste stream inside an automotive finishing shop, but it can be recycled by either shipping it off to an off-site recycling facility or by recycling the waste on site.
Recycling on-site can help automotive shops reduce regulatory requirements, future liability and save money.
How does on-site recycling work?
On-site recycling equipment, such as Maratek's Solvent Saver Batch, Solvent Saver Continuous or Solvent Saver Engineered, can help you to establish a safe, reliable and environmentally solution for solvent recovery and recycling.
On-site solvent recycling units work by separating waste solvents into reusable solvent and waste residue. Shops can then use the recycled solvent. Solvent recycling equipment should be easy to operate and maintain, with no special personnel needed.
On-site recycling equipment is often designed for different levels of complexity or quantity. They can be simple applications with minimal automation that operate one cycle at a time, they can be continuous units that are constantly and automatically recycling your solvents, or they can also be uniquely designed for your company's needs.
Solvent recycling units should be designed to efficiently integrate into your production process - no matter the make up of your waste solvent stream. All of your automotive shop's contaminated solvents can be recycled to their original form.
Boost your bottom line
Investing in on-site solvent recycling equipment is a great way to help you save money on solvent purchases, and, in turn, boost your yearly earnings. Here's five ways that can help your automotive shop save money with on-site recycling:
1 - Reuse waste solvents - With the help of on-site recycling you can reuse up to 90 per cent of your waste solvents, meaning you don't have to buy virgin solvent and you'll avoid costly disposal fees.
2 - Rental program - Maratek offers a contract-free rental program for most models, with no upfront costs. This allows you to start saving money immediately with no initial upfront investment.
3 - Eco-friendly - On-site solvent recycling allows your company to promote itself as environmentally friendly, not only allowing you to save money but also helping you to do you part for the planet!
4 - Multi-use - Maratek's equipment works with various types of solvents, allowing you to use the same machine to recycle multiple solvents.
5 - Save on labor costs - Worried that on-site recycling means you may have to pay one of your employees extra to work the machinery? Well, don't worry. Solvent is easily recycling on-site and doesn't not require special personnel for operation.
Maratek can help your automotive shop reduce waste and save money with our wide range of solvent recycling units. Contact us today to find out more.