Maratek Exhibits New Cannabis Extraction Products at MJBizCon 2022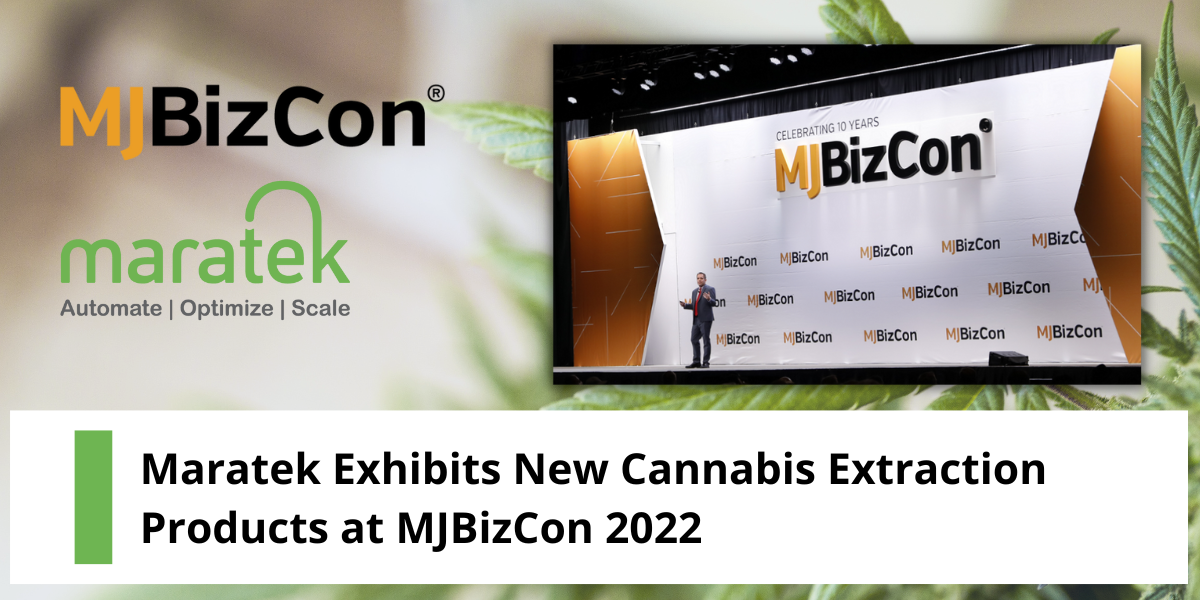 Maratek is happy to announce that we had a fantastic time at our appearance at this year's MJBizCon in Las Vegas! On November 15th-18th, Maratek exhibited at booth 9157 to show off some of our world-class cannabis extraction engineering products. Customers and industry peers came to meet the Maratek crew for live demonstrations, questions, and an enjoyable experience.
What is MJBizCon?
MJBizCon is one of the largest cannabis sector trade shows in the world. With its 11th anniversary, MJBizCon has delivered exciting and informative events to businesses from all around the world. This year, MJBizCon was hosted in the Las Vegas Convention Center South Hall to over 1400 exhibitors. The event included over 140 public speakers and featured four different industry sectors including:
Cultivation products and services.
Processing, packaging and lab services.
Business services.
Retail and dispensaries.
What did Maratek exhibit at MJBizCon?
Maratek made an appearance at MJBizCon to show off some of our latest developments and high-quality products. Each year, MjBizCon is the perfect opportunity for Maratek to show off what our world-class engineers have produced and what is to come in the future. We hosted live demonstrations and showed our developments for upcoming future projects that we knew would excite the industry. Our management team also answered questions and inquiries consumers had in relation to our products, our services, and who Maratek is as a company.
Who is Maratek?
Maratek has been a trusted partner for extraction solutions since 1967. We provide services for the recycling and disposal of solvents as well as liquid waste. In addition, Maratek provides companies with world-class solvent extraction and recovery products to help companies with everyday operations. These extraction systems have been recommended because they are efficient, effective, and reliable to use. These extraction systems include:
Vapor Static Extraction (Solventless extraction)
Trident (Water Extraction)
EV-M (Ethanol Extraction) & more
Maratek provides recovery systems as well to help companies save money and become greener. The recovery systems designed by our world-class engineers have been proven to help companies become greener by cutting down on their waste disposal. Furthermore, Maratek's recovery products help companies cut purchasing costs by maximizing the solvents usage. These systems include:
OERS-C Series
OERS-SC Series
Solvent Saver Series & more
Finally, Maratek provides high end products in the cannabis industry to help the manufacturing of marijuana. Maratek has aimed to increase the quality of marijuana being manufactured as well as the efficiency rate it is being produced at. Our cannabis products are revolutionary in the manufacturing industry as they include modern technology and help companies accomplish a variety of their goals. These products include:
TWS/TAWS Series (Winterization System)
D970L/D915L Series (THC Remediation)
KDT-6 Short Path Distillation (Distillation Equipment)
Isolate equipment & more
Maratek Announced its Partnership with BoulderCreek Technologies
Our strategic partners BoulderCreek Technologies also made an appearance this year at MJBizCon 2022! They could be found at booth 9049 where they showcased our vapor static extraction equipment. Vapor static extraction is a solventless extraction system that was designed by world class engineers from Maratek to help provide a cost-efficient alternative to traditional solvent extractions.
Are you looking for more information on anything Maratek exhibited at MJBizCon 2022? Get in touch with our team of experts today. We'd be more than happy to help.