Maratek and BoulderCreek Technologies Announce Strategic Partnership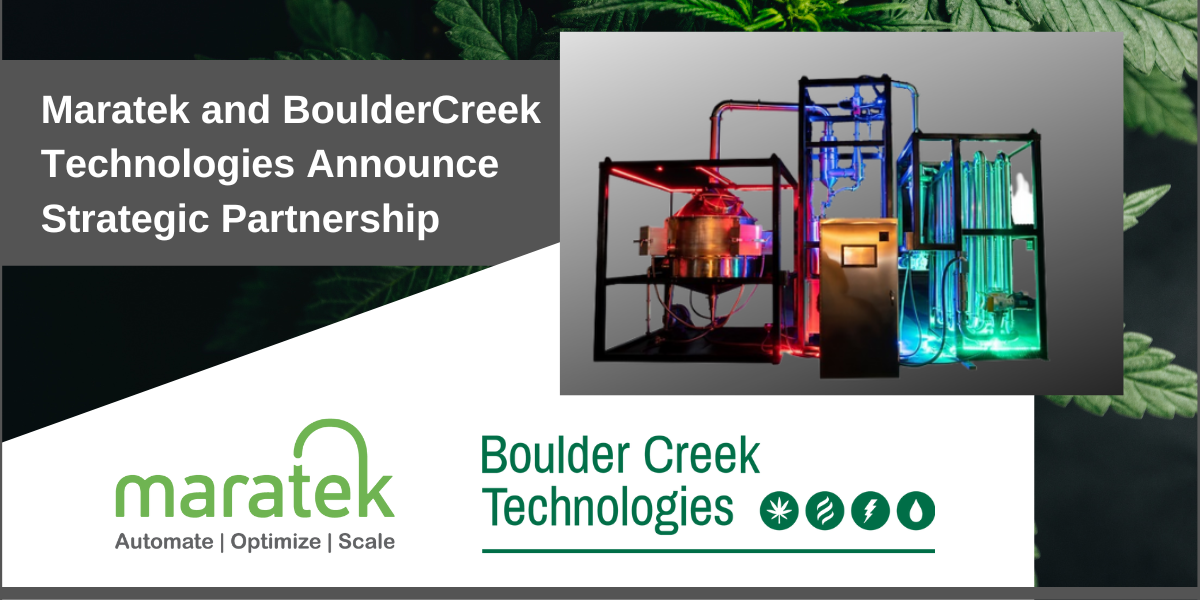 In March 2022, Maratek and BoulderCreek Technologies announced their new multi-year groundbreaking strategic partnership.
The two companies have agreed to build a world class vapor static extraction system to provide a cost alternative option for extracting solvents. Furthermore, Maratek and BoulderCreek Technologies have agreed to manufacture a first large-scale hemp install with Red Mesa Science & Refining.
These two projects alone are game changers in their respective industries as they stand alone as incredibly innovative products.
Who are Maratek and BoulderCreek Technologies?
Maratek and BoulderCreek Technologies are both based in North America, and they provide extraction solutions for companies worldwide. As part of the partnership, Maratek has agreed to be in charge of all the engineering, manufacturing, and further development of the vapor static extraction system.
The vapor static extraction system is a solventless system that is reliable, cost effective, and greener for the environment. It is a revolutionary product in the industry as its unique properties allow companies to cut down on purchasing costs, reduce significant amounts of disposed liquid wastes, and improve extraction rates marginally.
Who is Red Mesa Science & Refining?
BoulderCreek Technologies and Maratek are also partners with Red Mesa Science & Refining. Red Mesa is a company that is striving towards making a positive influence on the cannabidiol industry through providing raw cannabidiol materials and equipment.
The partnership with Red Mesa Science includes building an innovative first large-scale hemp vapor static-system. Maratek will be involved in helping the design, manufacturing, and development of this innovative project. Red Mesa is looking to continue to innovate the cannabidiol industry as they look to provide more solutions for the industry.
Partnership goals and future aspirations
Maratek and BoulderCreek Technologies strategic partnership is a one of a kind as some of the world's brightest and most renowned engineers come together to build a world-class product. With the great minds from both teams, Maratek and BoulderCreek Technologies can continue to satisfy consumers and keep paving the way for future companies in the industry.
The partnership has not only delivered effective products, but separate themselves from others as they continue to innovate within the industry. Maratek and BoulderCreek Technologies partnership is only the start as this multi-year deal has been laying down the foundation for what's to come in the future. A lot is in store and we can't wait to deliver to our satisfied consumers from around the world and what limits we can push within the industry.
Maratek and BoulderCreek Technology employees are just as excited as our consumers as they have stated their excitement for what's to come in the future.
Josh Calder, Maratek's Manager in Sales & Marketing, said: "We are hoping this can be the beginning of something big and continue to meet the needs of not only our audience but our companies' goals as well".
The partnership does not only focus on the present but the future as well, with Maratek and BoulderCreek Technologies sharing the same vision. Both companies strive towards challenging the norms within the industry and continuing to make developments to set a new foundation for others.
Appearance at MjBizCon Las Vegas 2022!
Finally, we are also excited to announce that Maratek presented in this year's MJBizCon 2022! Hosted in Las Vegas this year, attendees visited BoulderCreek Technologies at booth 9049 and Maratek at Booth 9157.
Cannabis industry professionals attended live demonstrations of our world-class engineered products as well as got an exclusive look at the vapor static extraction system.
Have any questions about Maratek's award winning solvent and cannabis processing equipment? Contact our team today.